Novel Coronavirus (COVID-19) Information for the Scripps College Community
IFC strives to be a resource for the feminist community. Please feel free to use these resources to further your feminist work, make connections, and find Anti-racism, Black Lives Matter, and COVID-19 online teaching opportunities.

---
Statement from Intercollegiate Feminist Center
We at the Intercollegiate Feminist Center for Teaching, Research, and Engagement are horrified at the torture and murder of George Floyd, one of many instances of deaths and maiming of Black people of all genders at the hands of police. And we are heartened by the ongoing global movement demanding justice and an end to the larger war against Black people.
In solidarity with the call from IDAS, IFC commits to devoting our programs to challenging anti-Blackness through provision of resources for anti-racist pedagogy and course development that centers teaching about anti-Blackness; sponsoring events and programs with scholars whose work addresses anti-Black racism and highlighting Black scholarship, especially that of Black feminist scholars both on and off campus; and promoting and deepening relationships with community organizations working to end anti-Black racism in its various and interconnected systemic forms, especially those led by Black feminists and feminists of color. Continue Reading Here.

---
THE 2020 WOMEN'S VOTE CENTENNIAL INITIATIVE
"The year 2020 marks the 100th anniversary of the passage of the 19th Amendment, guaranteeing and protecting women's constitutional right to vote. This historic centennial offers an unparalleled opportunity to commemorate a milestone of democracy and to explore its relevance to the issues of equal rights today." (credit WVCI) 
More Resources
Here
---
About Us
The Intercollegiate Feminist Center for Teaching, Research and Engagement offers programs and support for students, faculty and staff interested in feminism and gender issues, as well as those active in women's, gender and feminist studies at the Claremont Colleges. We sponsor and co-sponsor lectures, symposia, workshops, conferences, and community-building events. We offer:
• Teaching resources.
• A complete lending collection with books and films, as well as senior theses and magazines, open daily for browsing or studying. New books and films in our library collection. Explore the Women Make Movies collection on kanopy
• An events calendar of feminist/gender/women's studies at the Claremont Colleges and the surrounding area
• A list of Women's Studies courses offered each semester, with detailed descriptions
• Monthly networking lunches for students on specific themes. This year, we will host online get together for students, addressing current events and issues.
• A mailing list with information about events and other opportunities to get involved
• An up-to-date list of conferences and calls for proposals and papers
The IFC Steering Committee includes one or more faculty representatives from each of the undergraduate colleges and several students representatives.
The IFC offices and library are located in Vita Nova Hall at Scripps College.  Our hours are 9:00 a.m. – 4:30 p.m, Monday through Friday.  Please drop by to visit!
---
IFC Newsletter here:
---
Course Catalog
Spring 2021 GWS Course Descriptions here: Due to online instruction, please reference the student portal for current updates to course times and dates.
---
Feminist Film Spotlight
National Women's Studies Association to bring you Radium Girls. This film tells the story of a group of fierce feminist young women who challenged a corporation, American Radium, in defiance of dangerous work conditions.
---
Faculty News
Congratulations…
Aimee Bahng, Assistant Professor of Gender & Women's Studies at Pomona, Awarded New Directions Fellowship Grant from the Andrew W. Mellon Foundation.
Suchi Branfman (Dance, SCR) received a 2020 Claremont Colleges Diversity Teaching Award and Kathy Yep (Asian American Studies, PZ) received a 2020 Claremont Colleges Diversity Mentoring Award.
Jih-Fei Cheng, Assistant Professor of Feminist, Gender, and Sexuality Studies at Scripps, Discusses the AIDS Epidemic as a Network of Overlapping Crises with The Body
Professor Susana Chávez-Silverman's new book, Heartthrob: Del Balboa Cafe al Apartheid and Back, has taken second place for best autobiography in the International Latino Book Awards, with this comment from the judges: "Excellent read for many reasons, but what stands out is the truly innovative melding of languages."
---
Spotlight News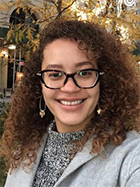 Briana Toole, assistant professor of philosophy
Briana was previously at Baruch College as a post-doctoral fellow and at MIT as a pre-doctoral fellow. Her research examines the relationship between epistemic, political, and social systems. She is currently working on a project investigating the conditions that allow for certain epistemological systems, like white supremacy or patriarchy, to survive and thrive. She is further analyzing how acts of social and political resistance are "held hostage" by the socially powerful. Briana is also the founder of Corrupt the Youth, a philosophy outreach program that aims to bring philosophy to populations that lack access to it. Her work has been featured in Hypatia, Times Higher Education, and the Examining Ethics podcast.
---
Student News
Congratulations, Class of 2020!
Students receiving degrees in women's/gender/feminist/sexuality studies program wrote the following theses:
Erin Baranko (CMC), Visualizing Participatory Politics: The Communal Power of Street Art in Revolutionary Egypt, Warring Syria, and Divided Lebanon.
Isa Berardo (PZ), Transgressing Boundaries: Challenging Gender Within the Athletic Industrial Complex.
Jorden Favors (PO), Learning to Unlearn: Black Women on Transcending and Healing from Racism and Racial Trauma.
Joslyn Gardner (PO), La Terreur insidieuse: Une Relecture de la logique de l'esclavage dans Ourika (Insidious Terror: A Rereading of the Logic of Slavery in Ourika).
Zoë Hernandez (PZ), Reconceptualizing Knowledge Through Quilting.
Dale Macauley (PO), Prosthetics in Search of a Body: (Re)Inserting Flesh into the Post-Human, recipient of Pomona's Gender & Women's Studies Senior Thesis Prize.
Sahana Mehta (SCR), South Asian American Activism: Disrupting Foundations, Harnessing Fault Lines, & Imagining Collective Futures.
Dale Macauley (PO), Prosthetics in Search of a Body: (Re)Inserting Flesh into the Post-Human, winner of the GWS Senior Thesis Prize.
Isaac Prestwich (PO), "And All Were Welcome": An Analysis of the Transgender Child in Contemporary Picture Books.
Isabel Schmidt (PO), "A Sacred Role:" Identifying Barriers and Pathways to Well-being and Efficacy for Peer Advocates for Survivors of Sexual Assault at the Claremont Colleges.
Emma Stammen (SCR), Benevolent Feminism and the Gendering of Criminality: Historical and Ideological Constructions of US Women's Prisons.
Alexandra White (PO), "May We Be Buried Alive Together": Towards an Intersectional Feminist True Crime Praxis, recipient of Pomona's Toni Clark Prize in Gender & Women's Studies.
Other seniors graduating with a major, minor or certificate are:
From CMC (certificate), Celia Aldrete, Bryan Douglas, Sally Carlson and Mayra Perez; from Pomona, Sophie Bax (minor) and Nicholas Imparato; from Pitzer, Julia Cohen, Isabel Downes-LeGuin, and Sophia Basseches (minor); and from Scripps, Sydney Fischer.
---
IFC Library
View our library collections and find links to other resources across the Colleges
LEARN MORE
Upcoming Events
Check upcoming events at the Claremont Colleges and throughout the Greater Los Angeles area.
LEARN MORE